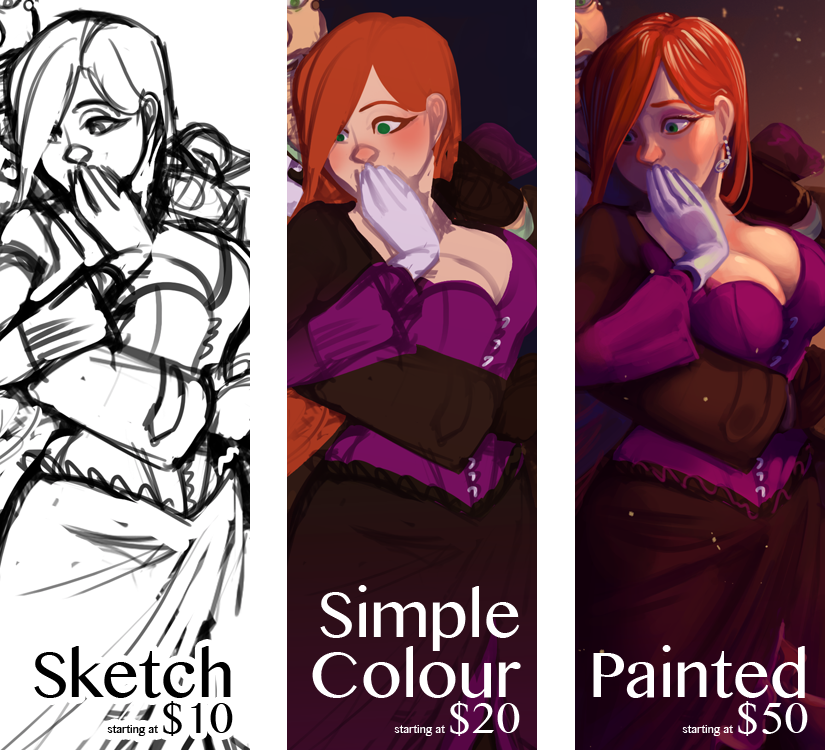 Sketch
$10 per character
Option of digital or pencil sketch.
No background
~1000px max dimension
Minor alterations may be requested at completion
Simple Colour
$20 per character
No background
~1000px max dimension
Minor alterations may be requested at completion
Painted
$50 for one character, $40 for each additional character
Simple background included. Complex backgrounds can be negotiated.
~3000-4000px max dimension (can vary greatly depending on composition)
If requested
, alterations can be made at the simple colour stage. Minor alterations may also be requested at completion. For complex commissions I'll give more opportunities for alterations at early stages.
Prices may change depending on the complexity of the character(s) or other details.
Payment MUST be paid in full via Paypal before the commission will be started. Payment is to be made in CAD or USD funds.
I will give you an estimated date of completion once I receive payment; the time depends on my current workload but is generally not more than 2 weeks. Please do not badger me until that date has passed.
I generally complete commissions in one or two sittings which is why I do not offer previews or feedback during the process. So if you want something specific, please, be specific in the details that you send! Visual reference is always best. I'm okay working with most subject matter but I reserve the right to refuse a commission if I'm not comfortable with it. I will not do explicit nudity but implied nudity is generally OK.
If you'd like to commission me, just send a note or e-mail me at crowbartkhullo[at]gmail[dot]com .
Digital Scene Painting Commissions
$100 must be paid up front, plus an additional $5/hour to be paid at completion and before high-res files will be handed over. Generally these paintings take over 10 hours, so be prepared to pay accordingly.
Default size is 11x17 at 300dpi. Other sizes may result in different fees.
Opportunities for alterations will be given up to the rough pass of colour, then minor changes may be requested at completion.
Re: the last poll I made, I'm not offering the portraits right now, but I
might
in a week.